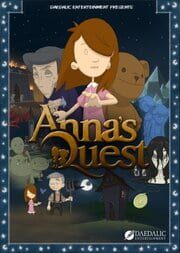 Anna's Quest
Žánry: Indie, Adventury
2. července 2015 - PC
2. července 2015 - Mac

Popis hry
Draci, čarodějnice, trollové... Annu nikdo nezastaví. Probíjí si cestu vpřed díky telekinezi, neobvyklému využívání mučících nástrojů, vlohám k improvizaci a s pomocí temné lišky. Paktuje se s mrtvými, likviduje pivní zásoby místních hospod a zavírá za mříže staré dámy...
Svět debutu autora Dane Kramse...zobrazit více
Draci, čarodějnice, trollové... Annu nikdo nezastaví. Probíjí si cestu vpřed díky telekinezi, neobvyklému využívání mučících nástrojů, vlohám k improvizaci a s pomocí temné lišky. Paktuje se s mrtvými, likviduje pivní zásoby místních hospod a zavírá za mříže staré dámy...
Svět debutu autora Dane Kramse v oblasti vývoje her není tak roztomilý, jak by se mohlo zdát. Ale Anna opravdu je dokonalá – nebo ne? Všechno to začíná osvobozením mluvícího plyšového medvěda...
Anna's Quest skrývá ručně kreslený, drsný příběh s pořádnou dávkou sebeironie.

zdroj: xzone.cz
Minimální HW požadavky
Operační systém: Windows Vista SP2, Windows 7 SP1, Windows 8 (32/64 bit versions)
Procesor: 2 GHz Dual Core CPU
Paměť: 2 GB RAM
Grafická karta: Nvidia GeForce 205, AMD Radeon HD 3400 Series with 256 MB VRAM, latest OpenGL driver
DirectX: Verze 9.0c
Pevný disk: 1400 MB volného místa
Zvuková karta: DirectX 9.0c Compatible Sound Card with Latest Drivers
Dodatečné poznámky: The "Prologue" bonus content requires Java 1.8. The main game is playable without Java. Using the Minimum Configuration, we strongly recommend to use minimal settings in order to not experience low frame rates.

Buď první kdo přidá k této hře zajímavost!