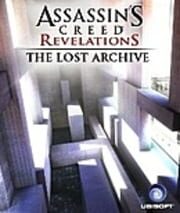 Assassin's Creed: Revelations: The Lost Archive
Žánry: Adventury
28. února 2012 - PC
28. února 2012 - Xbox Live Arcade
28. února 2012 - PlayStation Network

Popis hry
Společnost Ubisoft velice pečuje o své herní počiny a vydává již v pořadí třetí DLC pro Assassin's Creed: Revelations. V tajuplném příběhu se objasní důležité informace ohledně Subjektu 16 a Lucy Stillmanové. Plné dvě hodiny nového obsahu pro jednoho hráče doprovází inovativní styl vyprávění a plošinovková...zobrazit více
Společnost Ubisoft velice pečuje o své herní počiny a vydává již v pořadí třetí DLC pro Assassin's Creed: Revelations. V tajuplném příběhu se objasní důležité informace ohledně Subjektu 16 a Lucy Stillmanové. Plné dvě hodiny nového obsahu pro jednoho hráče doprovází inovativní styl vyprávění a plošinovková atmosféra s hádankami.

zdroj: heureka.cz
Minimální HW požadavky
OS: Windows® XP SP3 / Windows Vista® SP2 /Windows® 7 SP1

Processor: Intel® Core™2 Duo E4400 @ 2.0 GHz or AMD Athlon™ 64 X2 4000+ @ 2.1GHz

Memory: 1.5 GB Windows® XP / 2 GB Windows Vista, 7

Graphics: 256 MB DirectX® 9.0–compliant card with Shader Model 4.0 or higher (see supported list)*

DirectX®: DirectX® June2010 or newer

Hard Drive: 12 GB

Sound: DirectX 9.0–compliant sound card

Peripherals: Keyboard, mouse, optional controller

Internet: Temporary broadband connection required for one-time product registration at first launch, permanent broadband connection required for multi-player.
*This product does not support Windows® 98/ME/2000/NT
Supported Video Cards at Time of Release:
AMD Radeon™ HD2600XT or better/3000/4000/5000/6000 desktop series
NVIDIA® GeForce® 8600GTS or better/9/GT200/GT400/GT500 desktop series
Laptop versions of these cards may work but are NOT officially supported. These chipsets are the only ones that will run this game. For the most up-to-date minimum requirement listings, please visit the FAQ for this game on our support website at http://support.ubi.com.

Buď první kdo přidá k této hře zajímavost!