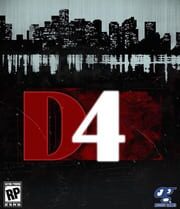 D4: Dark Dreams Don't Die - Season 1
Žánry: Point-and-click, Adventury
19. září 2014 - Xbox One
5. června 2015 - PC

Popis hry
Jeho jméno je David Young - kdysi člen protidrogového, dnes soukromý detektiv. Ovládá nadlidskou schopnost ponořit se do světa minulosti při dotknutí se jistých předmětů s minulostí spjatých (mementa). Jeho manželka byla před dvěma lety zavražděna, což mu způsobilo velké bolesti a ztrátu paměti. Poslední...zobrazit více
Jeho jméno je David Young - kdysi člen protidrogového, dnes soukromý detektiv. Ovládá nadlidskou schopnost ponořit se do světa minulosti při dotknutí se jistých předmětů s minulostí spjatých (mementa). Jeho manželka byla před dvěma lety zavražděna, což mu způsobilo velké bolesti a ztrátu paměti. Poslední slova, která mu manželka řekla, byla ,,Hledej D.".

zdroj: Heureka
Minimální HW požadavky
Operační systém: Windows 7 64-bit edition / Windows 8 64-bit edition / Windows 10 64-bit edition
Procesor: Intel Core 2 Quad Q9550 @ 2.83GHz or an equivalent AMD CPU
Paměť: 6 GB RAM
Grafická karta: NVIDIA GeForce GTX 470 or AMD Radeon HD 6870 (VRAM 1GB)
DirectX: Verze 11
Pevný disk: 10 GB volného místa
Zvuková karta: A DirectX 11 compatible card
Dodatečné poznámky: Keyboard and mouse necessary. Compatible with XInput controllers such as the Xbox 360 controller. Display: 1280x720.

Buď první kdo přidá k této hře zajímavost!