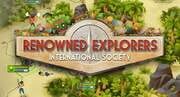 Renowned Explorers: International Society
Žánry: Strategické, Indie, Role-playing (RPG), Adventury
2. září 2015 - Mac
2. září 2015 - Linux
2. září 2015 - PC
2. září 2015 - SteamOS

Popis hry
Strategická adventura zasazená do fiktivního světa 19 století o objevování nového území, které budete dobývat nejen zbraněmi, ale také slovy. Na své cestě potkáte obří škorpiony, mumie, piráty či divoké domorodce. NA každého protivníka při tom platí odlišná taktika.  

zdroj:...zobrazit více
Strategická adventura zasazená do fiktivního světa 19 století o objevování nového území, které budete dobývat nejen zbraněmi, ale také slovy. Na své cestě potkáte obří škorpiony, mumie, piráty či divoké domorodce. NA každého protivníka při tom platí odlišná taktika.  

zdroj: heureka.cz
Minimální HW požadavky
Operační systém: x86/x64 versions of Microsoft Windows 7 (SP1 with latest updates), 8.1 and 10.
Procesor: AMD Dual-Core running at 2.6 GHz / Intel Dual-Core processor running at ~1.9 GHz (AMD Athlon 64 X2 5200+ and Intel Core 2 Duo E6300 or newer series are the oldest CPU architectures recommended).
Paměť: 4096 MB RAM
Grafická karta: AMD/NVIDIA dedicated/integrated or mobile graphic card, Intel integrated or mobile graphic card, with at least 512MB of dedicated VRAM AMD Radeon HD 3450, NVIDIA GeForce 9600 GT and Intel HD Graphics (Sandy Bridge) and above are minimum required graphic cards.
DirectX: Verze 10
Pevný disk: 1 GB volného místa
Zvuková karta: Integrated or dedicated DirectX 9.0c compatible soundcard.
Dodatečné poznámky: Keyboard, mouse

Buď první kdo přidá k této hře zajímavost!