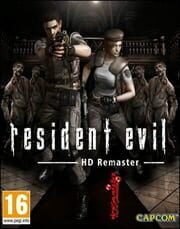 Resident Evil - HD Remaster
Žánry: Adventury
17. ledna 2015 - Xbox 360
17. ledna 2015 - PlayStation 3
17. ledna 2015 - Xbox One
20. ledna 2015 - PlayStation 4
20. ledna 2015 - PC

Popis hry
Resident Evil HD Remaster - hra která definovala žánr survival-horror je zpět! Dopřejte si remasterovanou HD verzi původního Residenta!
V roce 1998 je vyslána speciální jednotka, aby prozkoumala podivné vraždy na okraji města Raccoon City. Po příjezdu je však napadena krvelačnými psy a přinuceni k úkrytu...zobrazit více
Resident Evil HD Remaster - hra která definovala žánr survival-horror je zpět! Dopřejte si remasterovanou HD verzi původního Residenta!
V roce 1998 je vyslána speciální jednotka, aby prozkoumala podivné vraždy na okraji města Raccoon City. Po příjezdu je však napadena krvelačnými psy a přinuceni k úkrytu v nedalekém stavení. Jenže pach smrti je všudypřítomný a těžce doléhá na členy jednotky.

zdroj: xzone.cz
Minimální HW požadavky
Operační systém: Windows® 7 SP1 / Windows® 8.1
Procesor: Intel® Core™ 2 Duo 2.4 GHz, AMD Athlon™ X2 2.8 GHz, or better
Paměť: 2 GB RAM
Grafická karta: NVIDIA® GeForce® GTX260, ATI Radeon HD 6790, or betterMonitor Resolution: 1024×768 or higher
DirectX: Verze 9.0c
Připojení: Širokopásmové připojení k internetu
Pevný disk: 20 GB volného místa
Zvuková karta: DirectSound compatible (must support DirectX 9.0c or higher)
Dodatečné poznámky: Controller: Supports Keyboard +Mouse. Genuine Xbox 360 PC compatible controller or comparable XInput-based gamepad recommended.Note: Some high end integrated graphics chips and modern gaming laptops with a discrete GPU may work but have not been tested, nor are they officially supported by Capcom.

Buď první kdo přidá k této hře zajímavost!