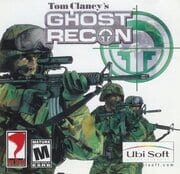 Tom Clancy's Ghost Recon
Žánry: FPS, Taktické strategie
13. listopadu 2001 - PC
1. listopadu 2002 - Mac
11. listopadu 2002 - Xbox
1. prosince 2002 - PlayStation 2
9. února 2003 - Nintendo GameCube

Popis hry
Staňte se vojákem budoucnosti a využijte možnost vyzkoušet si nejmodernější zbraně a množství průkopnických prvků z výbavy špičkového vojáka. Hra Tom Clancys Ghost Recon Vám nabízí velmi realistický pohled do budoucnosti vojenské techniky, doplněný o skvělou grafiku.
Společně se svým partnerem jste vysazení...zobrazit více
Staňte se vojákem budoucnosti a využijte možnost vyzkoušet si nejmodernější zbraně a množství průkopnických prvků z výbavy špičkového vojáka. Hra Tom Clancys Ghost Recon Vám nabízí velmi realistický pohled do budoucnosti vojenské techniky, doplněný o skvělou grafiku.
Společně se svým partnerem jste vysazení v drsné Moskvě, kde na Vás čeká spousta náročných úkolů, ale nejen tam, některé mise Vás zavedou až na norský venkov. Musíte si hledat svou vlastní cestu hrou plnou nepřátel za pomoci té nejmodernější vojenské techniky.
Čeká na Vás dvanáct misí s vysokou intenzitou boje, které jsou určeny pro široké spektrum hráčů, od začátečníků až po pokročilé. Můžete využít kooperativní multiplayer, kdy můžete hrát na jedné obrazovce ve dvojici, nebo režim arcade, kdy si můžete porovnávat skóre s ostatními hráči.

zdroj: xzone.cz
Minimální HW požadavky
OS: Windows® 2000/XP (only)
Processor: 450 MHz Pentium® 2 or equivalent
Memory: 128 MB
Graphics: 16 MB DirectX®-compliant 3D card (see supported list*)
DirectX Version: DirectX 8.0 or higher (included)
Sound: DirectX 8-compliant sound card
Hard Drive: 1 GB
*Supported Video Cards at Time of Release: ATI® Rage 128 and RADEON® chips, Intel® 82810 or higher, Matrox Parhelia™, NVIDIA® TNT2 and GeForce™ chips, S3 Pro Savage and UniChrome
Laptop versions of these chipsets may work but are not supported. These chipsets are currently the only ones that will run this game.

Buď první kdo přidá k této hře zajímavost!